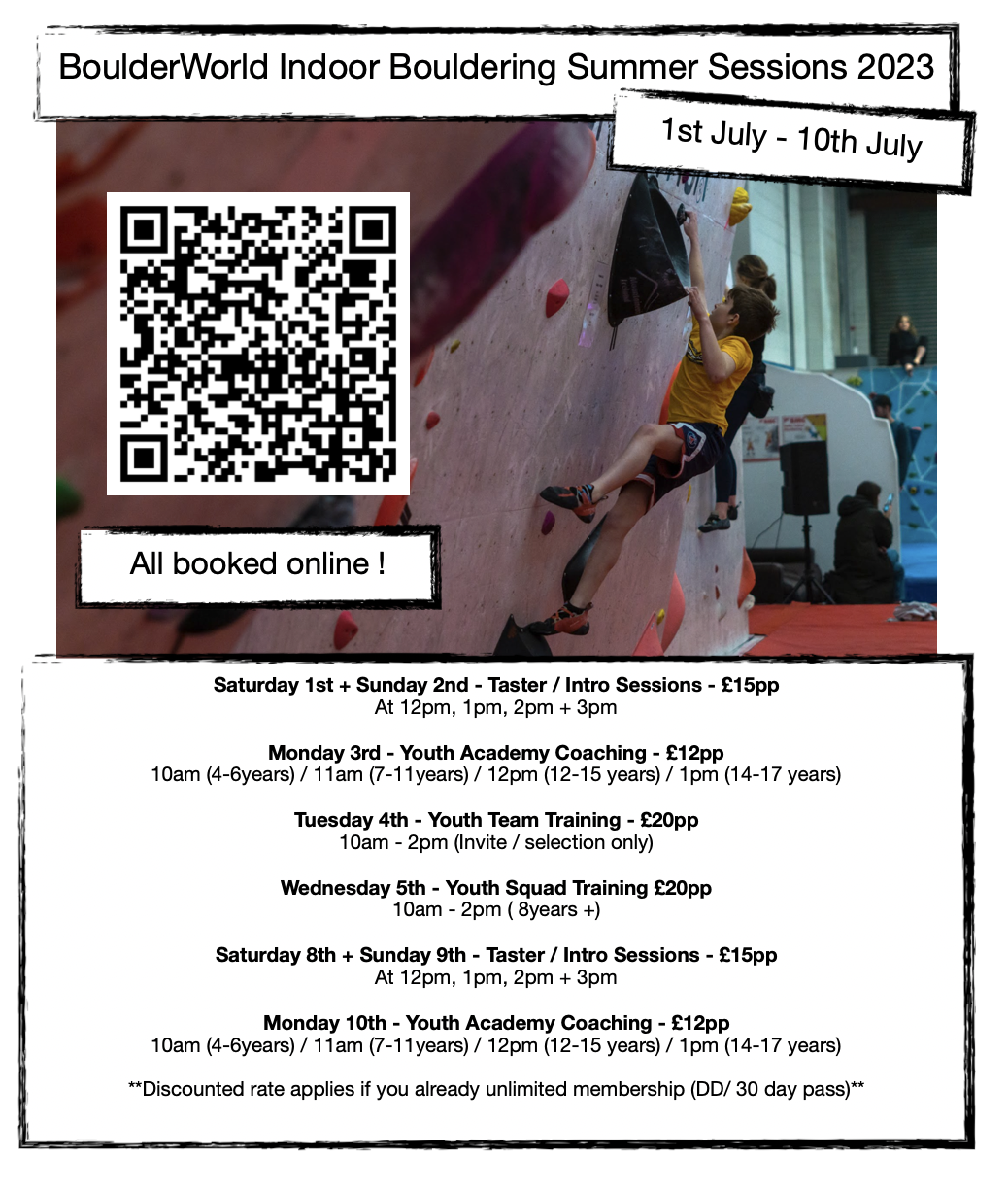 More Info –
Taster / Introduction sessions – £15pp (8 – 17 years + 18+ Years)
These sessions are around 45 minutes long and are there to get you started using the centre independently. You will be introduced and guided through the centre by one of our instructors. We will show you how best to use the centre in order to stay safe but also get the most out of the facility!
This is an ideal option for any first time adults wanting to give this sport a go, any parents or guardians wanting to learn how to safely supervise an U18 in the centre, any budding youth climbers wanting to give it a go (Must be accompanied by an adult) and any families wanting to take up a family fun activity ! 
Academy coaching sessions – £12pp (4-17 years)
These are 1 hour sessions for youth climbers wanting to further their skills, whether they have taken a taster session and want more, climb regularly but want some guidance, want to meet some climbing friends, or 1st time climbers unable to attend the taster sessions as a parent / guardian is unavailable. 
We have 4 ages groups and 2 levels within each group (please choose age accordingly and in confirmation email please indicate level)
4-6 years / 7-11 years / 12-15 years / 14-17 years 
Beginner (Orange – White level) 
Intermediate (Green – Purple level)
Squad sessions – £20pp (8 – 17 years)
These are 4 hour sessions for youth climbers looking to move to the next level in their climbing. Perhaps they have attended regular coaching classes or squad sessions throughout the term and are looking for some more?
They come 2+ times per week independently and would like to give it a go? 
Want to be part of a like minded group of friends, willing to try hard and push each other ?
Would like to be part of the selection process for the youth team next term? 
Team sessions – £20pp (12-18 years)
Invite / Selection only 
** For those with unlimited entry (DD / 30 day pass) please type in unlimited in the promo code for a discounted rate ** 
These sessions can all be booked online. 
New dates will one added each week so keep checking !